The best way to kick start the off-season has surely got to be back to back podiums in Cyclocross- so I was absolutely delighted to take the top step in my first two Scottish series cyclocross races of the season. I say 'cyclocross season' like I'm about to dive headfirst into another furious few weeks of travel and training but actually, my real 'season' has officially come to an end. That's it, mountain bike races are off the cards until February. I've had time off the bike to rest and recuperate, celebrate my sister's wedding, catch up with family and friends and it's now time to switch to winter mode which is all about laying down a good solid base of long miles and strength work. But cyclocross is a great supplement to winter training and a fantastic day out. It's 45 minutes of racing so not too stressful on your body and gives you a good race specific effort. As tempting as it is to back off a little going into racing and rest up for some fresh legs, I always try and keep the bigger picture in mind which is the mtb season, so I keep the miles up and gym sessions in. A podium is just a happy bonus (though even when not rested, it's still always a goal too ).
2018 has, without doubt, been my most successful year to date. It's been fantastic! Outcome wise, the highlights have been:
Scottish Mountain Bike Champion
Scottish Road Race Championships Bronze Medallist
British Mountain Bike Vice-Champion
British Mountain Bike Series Champion
Top 3 in every British series race
Norwegian Stage race Bronze
Portuguese Stage race Silver
Spanish stage race 4th
Top 10's in a spread of European race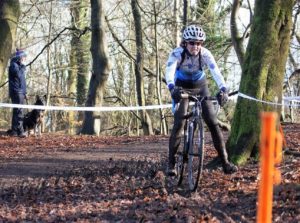 As I type this, I'm thinking- wow! At the end of 2017, I was ranked 230th in the World. Today, I'm ranked 66th in the World. 2017 was a tough year for me personally and it naturally impacted on my racing. However, I have this innate feeling of being at one with the process of remaining patient but working hard and continuing to improve. It's easy to lose your self-belief but one way to get it back is to have long-term sponsors who come to you and say, 'we want to continue working with you'. That's exactly what happened in autumn of 2017 and there is nothing more motivating than self-belief coupled with the belief of others. I still remember tearing into a box of fresh Loch Duart cycling kit and having the privilege of being photographed by Euan Myles. It was also a huge weight off knowing that my goals could be pursued with added financial investment and an ability to finance more races.
My first stop wasn't a race though but a warm weather training camp in Gran Canaria in very early January as Scotland shivered in the depths of the beast from the East. It's the first time I've ever been able to escape the bad weather and get some quality miles in and I think it helped set me up for a good spring. It was an absolute privilege to feel pro enough to take off into the warmth.  Race wise, I kicked off the year's calendar with some stage racing, which is back to back long days of racing. I figured I could use these as more training blocks and experience but as it happened, they went far better than I could have anticipated, and I came away with a heap of UCI points and some brilliant international podiums!  One of my favourite pictures from this year is of me sitting on a sunbed in Oropesa Del Mar, Spain, medal round my neck and a glass of beer in my hand, completely beat up, bloody and bruised, having just finished the hardest 4 day race of my life amongst esteemed riders and with an overwhelming sense of holy moly, did I just do that?! The Mediterranean Epic was indeed that, but it sewed some good seeds of "I can do this" for the upcoming season.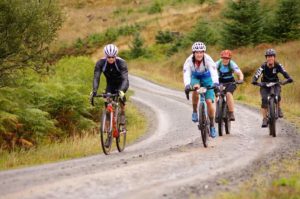 When the cross-country season kicked off properly, I remained at the front of the British elite taking a podium at every single domestic race I did. My confidence improved hugely through 2018. Really though, I believe the improvements came from maintaining good habits and with that the natural progression that occurs from someone still developmentally young in their sport. I paid more attention to my nutrition this year, I focused more on getting quality rest and sleep, I was consistent in training and backed off when required too. I also acquired a fantastic bike sponsor and team- a British brand called Genesis who help me with the bike, parts, spares, kit etc. My excellent mechanic Carl from BikeLove Glasgow has also inspired confidence. This year also brought about a change in occupation and frequent trips to the Isle of Lewis as a result but as a contracted worker, I have had the flexibility to fit my racing and training around work. 2 forced days off the bike a week also contributed to me training more smartly. Accountability also comes into play and when sponsors and individuals around you invest time, effort, money into your progress, it is very motivating to perform and never give up. The nice part about the improvements this year are that there is still room for many more. I still lose confidence in stages like World Cups and European Cups, but I can feel it coming. I still spread myself a little too thinly and burn out from time to time as a result, but overall, the jigsaw pieces are starting to fit a little more.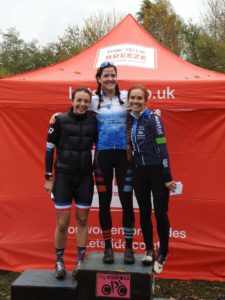 Outside of racing, the bike has continued to bear fruits through 2018. My sister Kirsty and I had the wonderful experience of being nominated by the Lord Lieutenant of the Western Isles to represent the Islands at the Wedding of Prince Harry and Meghan. A truly wonderful day filled with happiness and love. It was an absolute honour to represent our islands and be ambassadors. We embraced it all! We also had our second 8-part cycling documentary aired on BBC Alba which saw Kirsty and I ride different routes across Scotland. It was very well received, and you can catch it from time to time along with our Hebrides documentary on repeat on BBC Alba. When I haven't been racing at the weekends, I've also been able to continue co-hosting BBC Saturday morning radio programme Spors na Seachdainn (Gadhelic for weekly sports round-up). It remains important to me to continue to engage with people and inspire them through my own experiences. My key messages are always the same- there will be setbacks, but they help nurture resilience and determination. When speaking to groups from the islands, my message is to see the geographical and rural barriers they are faced with as strengths and challenges to overcome, challenges that also build resilience and determination. It's not an easy journey and if you're prepared for that and prepared to work, you can succeed.
I'm now looking forward to building a solid base through the 2018/19 winter coupled with cyclocross racing. Goal wise for 2019 and judging by the current trajectory could be a good one. If I can 'keep the heid', work hard, be smart and practice gratuity then the cycling world remains my oyster.