Salmon Tartare
Cure the prepared salmon fillet under equal parts salt and sugar for 18hrs
Once cured wash off and dice into small 1/2cm cubes
Make the dill oil 
100ml of vegetable oil
100ml of olive oil
3 bunches of dill
Method for dill oil
Add the chopped dill and oil into a thermo blender
Set to 70c and blend on full power for 7 minutes
Pass through strainer and chill
Make the seaweed mayonnaise 
First the seaweed oil
500ml of vegetable oil
100g dried wakame
Seaweed oil method
Place in thermo blender
Set to 70c and blend on full power for 7 minutes
Pass and cool
Then the mayonnaise
2 eggs boiled for 3 minutes
4 egg yolks
500ml of seaweed oil
15ml of white wine vinegar
Season to taste
Method for the seaweed mayonnaise
Add the eggs and 15ml of white wine vinegar to a blender and blend until homogenized
Slowly add the seaweed oil until thick
To plate
Season the cured diced salmon with a little dill oil
Dress with seaweed mayo and picked dill
Eat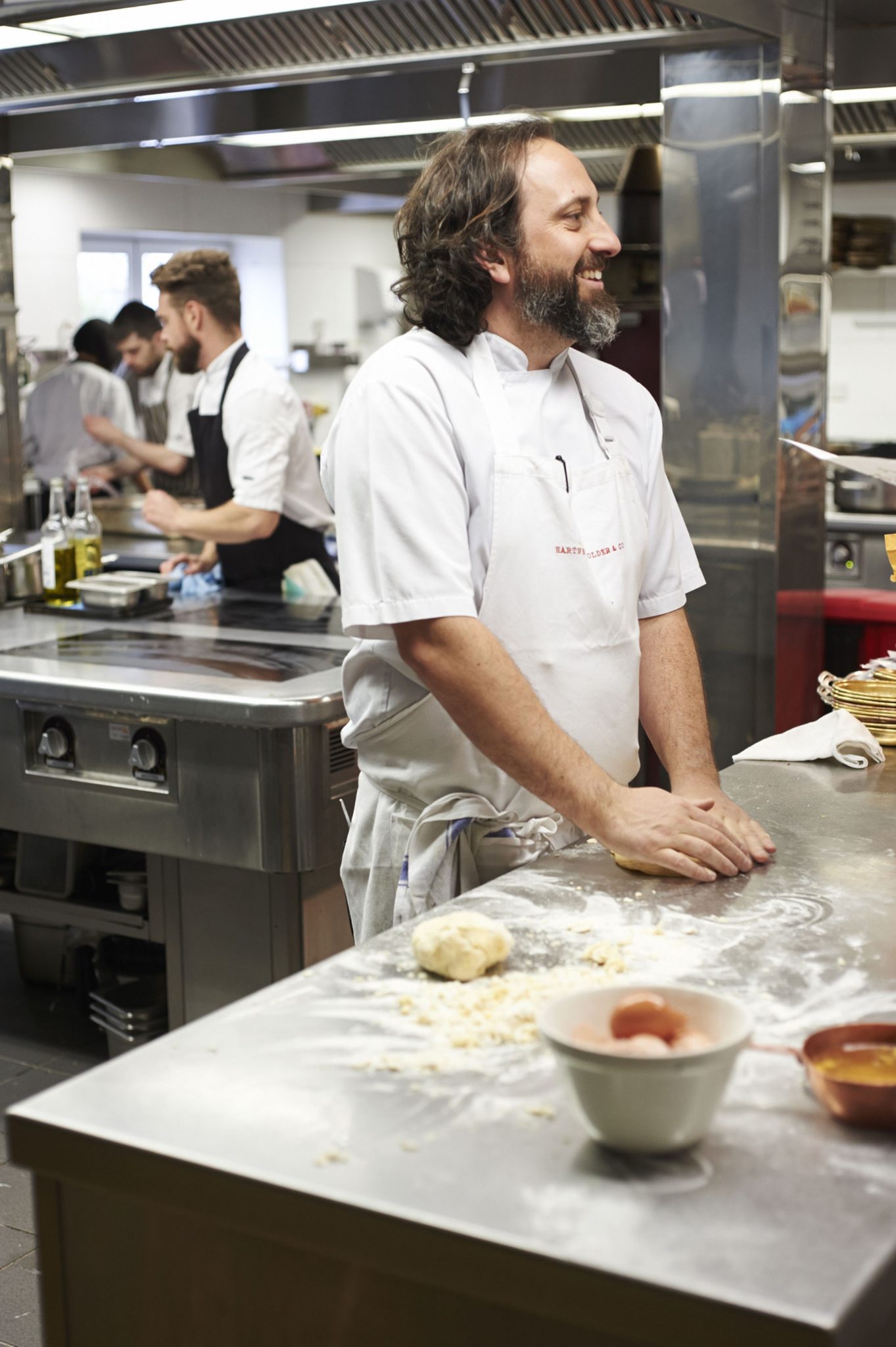 Luke Holder Biography
Born in the UK, raised partly in Dubai and having travelled around the world, Lime Wood's head chef Luke Holder has a wealth of experiences and culinary influences.
Luke spent ten years of his childhood with his pioneering family in Dubai where, even from an early age, he developed an interest in food and cooking.  On returning to the UK in 1998, he was determined to pursue a career in fine cuisine.  He took matters into his own hands and called chef Chris Galvin, a bold move which led to him securing a position as commis chef at the exclusive Orrery restaurant in London.
Having learnt the ropes for a year at The Orrery, Luke gained extensive experience in the kitchens of some of London's finest and busiest restaurants including The Oxo Tower on the South Bank.  After this Luke went to Europe where he spent four months working alongside Stephane Buchholzer, a specialist in molecular gastronomy; then Florence, and the kitchen of three Michelin-starred Enoteca Pinchiorri, this experience ultimately changed his philosophy on food forever and firmly placed his focus on cooking locally and seasonally, at the highest level. He then eventually found his way back to England and finally Lime Wood.
Hartnett Holder & Co is a relaxed, stylish and comfortable upscale restaurant – full of character, yet unpretentious. Luke and Angela Hartnett, with their team, create locally sourced English dishes with a respectful nod to the seasons and to Italian culinary ideologies. This collaboration is reflected in their fresh, confident approach ensuring that this is "fun dining, not fine dining".