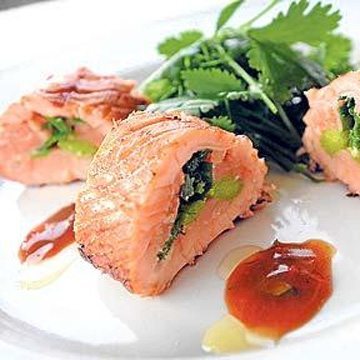 Ingredients
225g/8oz Loch Fyne classic long cut smoked salmon
300g/10oz Middle cut fresh Loch Duart salmon, thinly sliced
100g/4oz Baby asparagus
6 tbsp Olive Oil
3 tbsp Thai plum sauce
2 stalks lemon grass, finely chopped
2 Thai chillies, finely chopped
10g (or a good sprig) of fresh coriander, dill, chives and tarragon
Baking Equipment
Method
Separate the sliced smoked salmon and cover with a slice of fresh salmon, top with the asparagus. Roll up into a sausage shaped parcel and secure with cling-film and keep in the fridge for 10 minutes.
Take the salmon out of the cling-film and place into a baking tray. Mix together 4 tbsp of the olive oil with all of the plum sauce, add the lemon grass and the chillies. Mix well and pour over the salmon parcels, lightly coating them, but do not submerge them. Leave for an hour in fridge.
Drain off the excess marinade. Heat the remaining oil and sauté the salmon for 5 mins, turning at least once.
Serve sliced, garnished with the fresh herbs.